GlobeNewswire
SHAREHOLDER ALERT: Levi & Korsinsky Notifies Holley Inc. (HLLY) Investors of a Class Action Lawsuit and Upcoming Deadline
News provided by
Levi & Korsinsky, LLP
Nov 20, 2023, 1:00 PM ET
NEW YORK, Nov. 20, 2023 (GLOBE NEWSWIRE) -- Levi & Korsinsky, LLP notifies investors in Holley Inc. ("Holley" or the "Company") (NYSE: HLLY) of a class action securities lawsuit.

CLASS DEFINITION: The lawsuit seeks to recover losses on behalf of Holley investors who were adversely affected by alleged securities fraud between July 21, 2021 and February 6, 2023. Follow the link below to get more information and be contacted by a member of our team:
https://zlk.com/pslra-1/holley-lawsuit-submission-form?prid=56244&wire=3 
HLLY investors may also contact Joseph E. Levi, Esq. via email at jlevi@levikorsinsky.com or by telephone at (212) 363-7500.
CASE DETAILS: The filed complaint alleges that defendants made false statements and/or concealed that: i) as a result of Holley's extensive focus on its direct-to-consumer ("DTC") channel, Holley's critically important relationships with its resellers and distributors, whose business made up the vast majority of Holley's revenue, were suffering significant damage; (ii) Holley used discounting and other similar efforts to grow its DTC channel, which undermined the pricing discipline Holley historically had with its resellers and distributors and further damaged Holley's relationship with its resellers and distributors; (iii) as a result of Holley's strained relationships with its resellers and distributors, those resellers and distributors were decreasing their purchases of Holley products, returning products already purchased at levels far above historical norms, and increasing their purchases of competitors' products; (iv) Holley's growing DTC channel could not offset the negative financial impact of the Company's increasingly strained relationships with its resellers and distributors and, as a result, Holley's critical relationship with resellers and distributors was deteriorating; (v) Holley had failed to successfully integrate and capture synergies from its numerous acquisitions, which left Holley with inefficient operations, excess costs, and inventory management problems; and (vi) Holly benefited from COVID-related stimulus money that temporarily boosted its sales and performance, and despite this unsustainable, temporary boost, defendants misled investors to believe the growth was sustainable and the result of persistent demand and supportive of positive financial guidance.
WHAT'S NEXT? If you suffered a loss in Holley during the relevant time frame, you have until January 5, 2024 to request that the Court appoint you as lead plaintiff. Your ability to share in any recovery doesn't require that you serve as a lead plaintiff.
NO COST TO YOU: If you are a class member, you may be entitled to compensation without payment of any out-of-pocket costs or fees. There is no cost or obligation to participate.
WHY LEVI & KORSINSKY: Over the past 20 years, the team at Levi & Korsinsky has secured hundreds of millions of dollars for aggrieved shareholders and built a track record of winning high-stakes cases. Our firm has extensive expertise representing investors in complex securities litigation and a team of over 70 employees to serve our clients. For seven years in a row, Levi & Korsinsky has ranked in ISS Securities Class Action Services' Top 50 Report as one of the top securities litigation firms in the United States.
CONTACT:
Levi & Korsinsky, LLP
Joseph E. Levi, Esq.
Ed Korsinsky, Esq.
33 Whitehall Street, 17th Floor
New York, NY 10004
jlevi@levikorsinsky.com 
Tel: (212) 363-7500
Fax: (212) 363-7171
www.zlk.com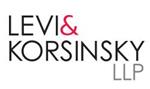 NOTE: This content is not written by or endorsed by "WRBL", its advertisers, or Nexstar Media Inc.
For inquiries or corrections to Press Releases, please reach out to GlobeNewswire.